How to Clean Your Advanced Double Electric Breast Pump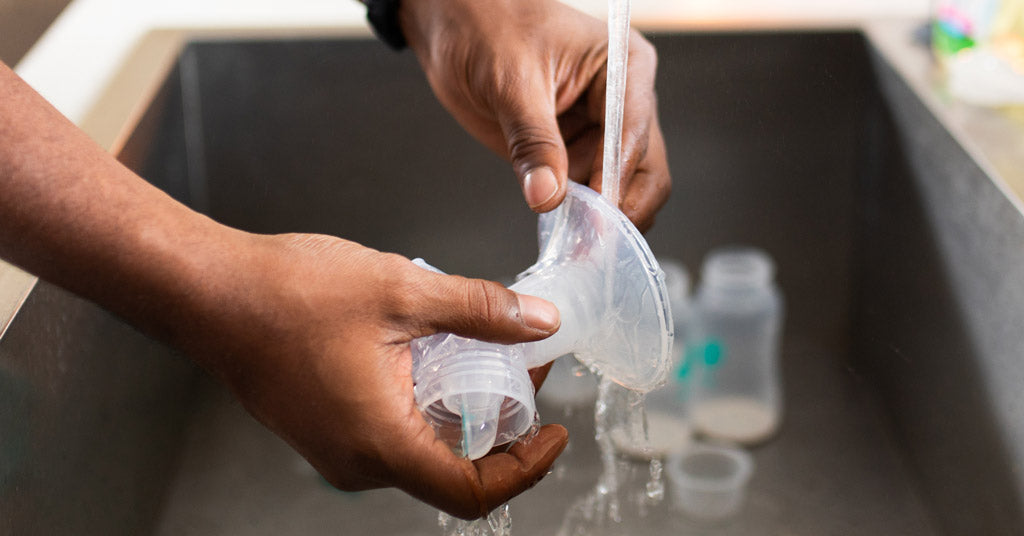 Did you know cleaning (washing with soap and water) and sanitizing are two separate steps? Cleaning with soap and water removes dust, leftover milk, etc. Sanitizing with high heat removes bacteria or viruses that may be present. Both steps are important.
It is recommended that you clean (wash) your pump before you ever use it, as well as after each use. In the U.S., the CDC also recommends that you sanitize before first use and once daily for babies under 3 months or medically fragile. For detailed steps read How to Keep Your Breast Pump Kit Clean
Before cleaning your pump, set the motor, tubing, and caps aside—they do not need to be washed because these parts do not touch your milk. If you happen to drip milk on these parts at some point, simply wipe them with a soft damp cloth as needed.
Cleaning your pump:
Wash your hands.
Take your flange kit apart, separating the valve, membrane, and diaphragm from the flange.
Rinse milk off by holding the pump pieces under cool, running water.
There are two ways to clean your pump.

Option 1: Basin Fill a clean basin with warm water and mild dish soap. Submerge the flanges, bottles, valves, membranes, and diaphragms, sealing disks and cap rings. Use a soft, clean brush as needed. Rinse well with clean water. For more details watch How to Wash Your Breast Pump Parts
Option 2: Dishwasher Place disassembled parts on the top rack of the dishwasher, placing smaller parts in a top-shelf, dishwasher safe basket. Be careful not to set anything heavy on top of breast pump parts. Run dishwasher.
Sanitizing your pump:
Wash your hands.
Option 1: Stove top Place flanges, bottles, valves, membranes, and diaphragms in pan of boiling water for five minutes, stirring frequently. Do not let any pieces settle on the bottom of the pan. Remove immediately with clean tongs.
Option 2: Microwave Sanitizing Bag Place pieces mentioned above into the Evenflo Feeding Silicone Steam Sanitizing Bag and use as instructed.
After cleaning and/or sanitizing, let the pump dry:
Clean the counter surface.
Wash your hands.
Lay pump parts on clean paper towels, a clean dish towel, or drying rack. Do not set anything heavy on top of pieces while they dry.
After the parts have dried, re-assemble your pump.
PARTS THAT MAY BE SANITIZED:

Bottle
Valve
Membrane
Diaphragm
Flange
Flange Inserts
Sealing Disc
Bottle Cap Ring

To Sanitize Parts on the Stove:

Place disassembled pump parts in a pan of boiling water for 5 minutes. Stir frequently.
DO NOT allow parts to rest on bottom of pan as they may melt or become damamged.

To Sanitize Parts in the Microwave:

Use Evenflo Silicone Steam Sanitizing Bag according to instructions.

PARTS THAT ARE HAND WASH ONLY:
IMPORTANT: DO NOT BOIL OR SANITIZE IN MICROWAVE. Boiling or sanitizing in the microwave will damage these parts and the PUMP WILL NO LONGER WORK
DO NOT WASH:

Pump Unit
AC Adapter
Tubing Adapter
Tubing

WARNING: NEVER immerse pump unit or AC adapter in water or attempt to sanitize in a microwave oven. Damage to parts and oven may occur. Do not boil or wash tubing or tubing adapter. Wipe the pump unit with a clean, damp cloth as needed.